---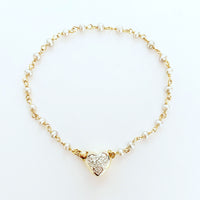 Launched for our in-store Demi-Couture event, this collection of fine 14k gold and diamond bracelets are all made to order in our Berkeley, California design studio.  Each bracelet is made to length and beaded by hand in 14k gold with freshwater pearls.
Made to length bracelet
Choose from 14k white gold or 14k gold
Heart charm with pave Diamonds
Hand-beaded chain with white freshwater pearls
Available for preorder.  Please allow two weeks for production.  If other items are ordered, we will ship separately.